Wreaths

Arrangements

Wall Decor




Testimonials

Privacy & Security

Shipping Info.

Credit Card Info.

Return Policy

FAQ's

About Us




Wish List

Tell a Friend

Distinctive Dried & Silk Flower Designs
This Week's Feature:
Home - Sweet - Home Wreath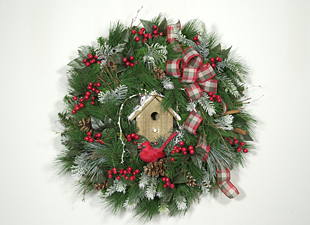 Custom Orders
are Welcome!
We are proud to offer the finest quality dried and silk flower wreaths, centerpieces and accent pieces. Please click on one of the tabs above, wreaths are located in the Wreaths department, the Gift Shop and the Seasonal department. Centerpieces and Accent Pieces are in the Florals department and the Gift Shop. Swags and Arches are in Wall Decor.




The Wreath Club

The Floral Club

Gift Certificates

Thank You Gifts




Items Under $50

Items $50 to $75

Items $75 to $100

Items Over $100



What's On Sale

Free Drawing




Wreath Hangers

Silk & Dried Wreath
Preservation



Show All Products

Request Catalog

Order by Fax/Mail
Order by Phone at:
1-800-287-9535
9 to 5 ET (M-F)


Decorator
Wreaths

Gifts

Seasonal
Wreaths

Florals

Wall Decor


Secure Shopping